I have
the most
exciting news for amigurumi crocheters.
Has everyone heard of
PlanetJune
? If you have not, go over there and check it out right this second. She's an amazing crafty lady who designs adorable amigurumi animals and plants. She does tons of research on each of her designs and goes through several prototypes before landing on her favorite. She's invented (or unvented) several sneaky techniques to make her amigurumi neater and cleaner, or striped, spotted, and patchy. They are absolutely amazing and I want most of her designs.
Her first pattern of the new year came out yesterday, and I am
bursting
with excitement. I have been waiting at least two and a half years for this pattern, and I could not be happier with what finally arrived. Ready?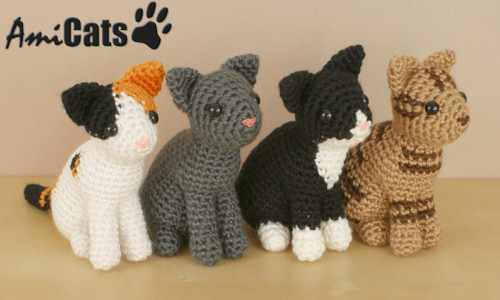 This picture is not mine.
This picture belongs to PlanetJune.
It's
AmiCats
! Ahh!
June has 21 AmiDogs patterns with different shapes and sizes to match the breeds, but it's taken her
years
to figure out how to make her cats. The shape she came up with is honestly the cutest cat I've ever seen in crochet.
In the 2012 Ravellenics I played on the PlanetJune team and was astonished to learn that I won 5 pairs of craft eyes from
Suncatcher Eyes
. Seeing the cat eyes, I thought to ask what size eyes June's cats were going to have (if she even knew yet). She said they would probably be 9mm eyes because most cat eyes are 9mm and that makes the most sense. So I ordered purple cat eyes as one of my prizes, and they've been patiently sitting on a shelf since then, waiting for the cats.
But now the cats are here! I snatched up all four patterns immediately, and I'm planning to make a purple-eyed black cat as soon as I finish a few other projects. After that I'll probably order more craft eyes and make a few more of these little buggers to give away or sell.
Want to make your very own kitty friends? Lucky for you June is having a bit of a sale in addition to her package deal. Go pick them up
here
and enter the code MEOW when you check out for an extra dollar off. That's four cats for $15, which is less than the price of three when you buy them individually. This is definitely something you should do. (She's not paying me to say these things; I promise. I just adore her.)